53082 10/5/12
SKIN TITE TM CAMO MASKS
Bow Hunting - Deer Hunting - Duck Hunting - Turkey Hunting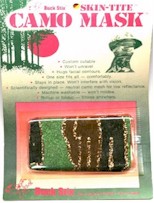 Special stretch material hugs facial contours and really stays in place.

Neutral camoflage pattern will really camouflage you.

Special weave allows custom cutting and will not unravel at the edges.

Replaces messy camo creams

No clean up, just roll-up.

ORDER YOURS TODAY. $9.95 ea.

This is what you see in the mirror.

This is what the deer sees in the woods.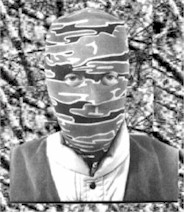 SKIN TITE Camouflage Face Mask is available in six colors to match the woods where you hunt ..
Tree Camo Brown Camo Green Camo
Drab Green Orange White
| | |
| --- | --- |
| Select Mask Color | Then Click Add to Cart |
DO NOT SELECT ITEMS MARKED "SOLD OUT" OR YOUR ORDER WILL BE DELAYED.