41303 10/5/12
BARREL CARRIAGE CHEEKS TOOLS LOADING ENGRAVING
How to Build a 12 pound Mountain Howitzer Cannon
...by Buck Stix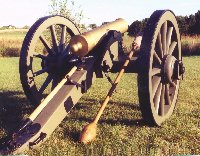 ***************************************************
ENGRAVING THE MOUNTAIN HOWITZER BARREL
***************************************************
As a finishing touch to my Mountain Howitzer Cannon, I wanted to have it engraved to commemorate the " 3rd Wisconsin Cavalry, Company C. " Many Civil War Cannon Barrels were engraved with the name of the Regiment that used them. I located several original barrels and traced the markings for reference.
Lucky for me, Master Engraver, Tim Adlam lived only 15 miles south of me in Oshkosh, Wis. I telephoned and asked Tim a few questions. I asked, "What was your biggest engraving project to date?" He answered, "It was a big double barrel shotgun, why?" I asked if he wanted to do "a really big engraving job". He wanted to know more, before he would answer.
I told him about my Mountain Howitzer cannon project, and what I wanted engraved on the barrel. Not only did he accept the job, but he actually made a "house call" right to my driveway.
I didn't even have to remove the howitzer barrel from the carriage, or the carriage from the trailer. He did his magic right on top of the cannon. He really got "into" and "up on" his work. As you can see below, he sat right down and started to engrave.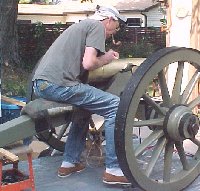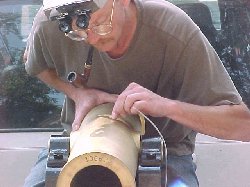 Tim started by "laying out" the intended engraving pattern on the barrel with a pencil. He referenced the tracings I had made of original barrel markings, using similar font and size.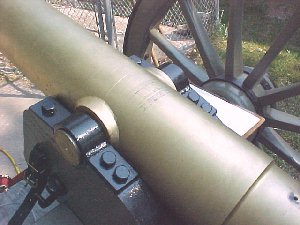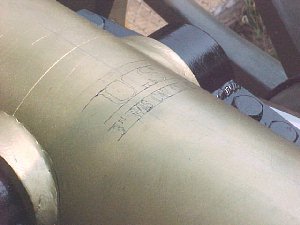 He then started making little metal chips using a small air driven engraving tool.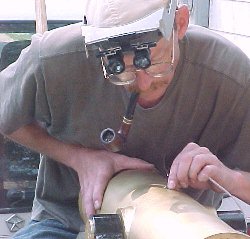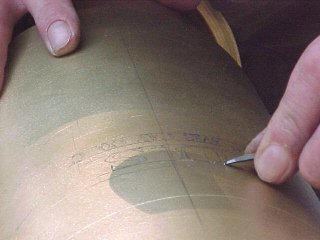 He carefully, and gently, cut the numbers and letters on the Mountain howitzer barrel.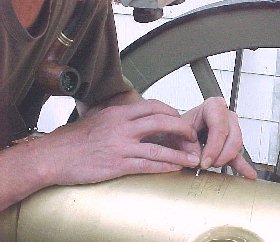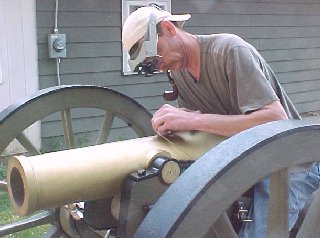 Letter by letter, number by number, were carefully carved into the howitzer steel.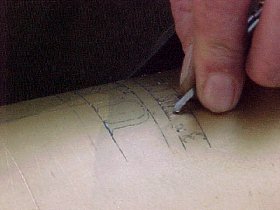 I marveled at his steady hand as he engraved the barrel.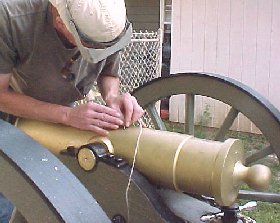 Positioning was awkward astride the cannon so Tim switched to the old fashion hand held hammer and chisel to get more control.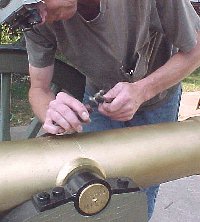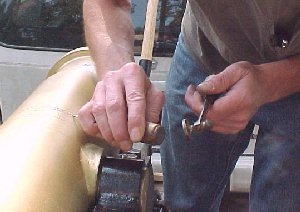 Tap, tap, tap, he patiently carved away on the mountain howitzer barrel.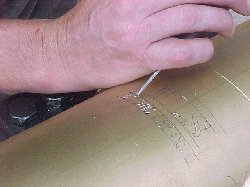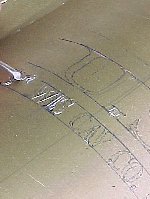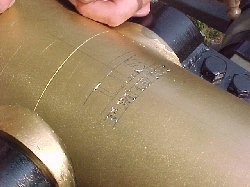 The Mountain Howitzer was finally getting an identity.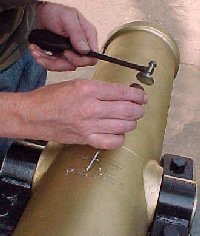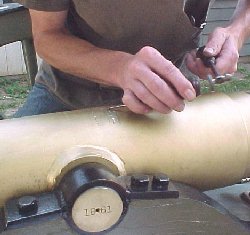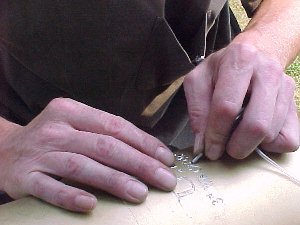 Tim shifted around dozens times. He kept changing his position as required to make the curves and lines and slashes of the numbers and letters. He shifted so many times that I'll bet it's the first time he ever got sore legs from an engraving job.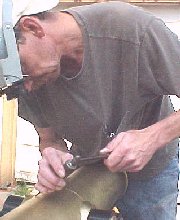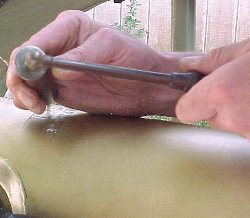 It took Tim about 3 hours to finish engraving the Mountain Howitzer barrel.
It looked great! And, it was in the traditional style of many of the 1850's cannons.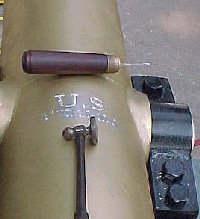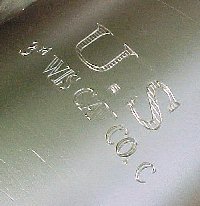 Here is our finished Mountain Howitzer barrel, along side an original 1850's engraved howitzer barrel.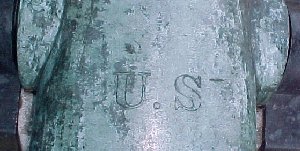 Click this link to see Master Engraver Tim Adlam's work. http://adlamngraving.com/


Next see how we built a Coehorn Mortar to go with our cannon >> MORTAR

< < click to GET A FREE PRINT OF MY GRAMPA HOWITZER